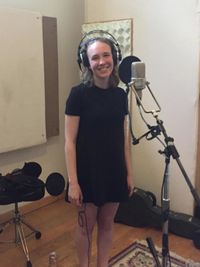 On June 26, my oldest daughter (and first family musical collaborator), Emma, joined me in the studio.  Emma was only home for a few days between returning from a semester abroad and heading south to Durham, NC for a summer internship, but was kind enough to come down to the studio and add her beautiful soprano harmonies to the project.
In short order, Emma recorded parts on four tracks.  On three--"Arms Wide Open," "Friday Morning," and "Water Wheel"--she added her part to the lower harmony Grace had recorded a week earlier.  Emma also added a part to "When We Remember When."  
While "Arms Wide Open" was up, producer Eric Kilburn, who has a great tenor voice, took his first turn behind the mike, recording a great part fitting between my melody line and Grace's part in order to create a kind of gospel chorus effect for the song.  A short but very productive session. Thank you Emma!