On July 6 we convened at 4:00 pm at Wellspring with Kevin Barry, a legendary guitarist who has worked with a truly amazing group of national artists.  Kevin also happens to be one of the nicest people you could meet.  I can't thank Eric enough for recommending him.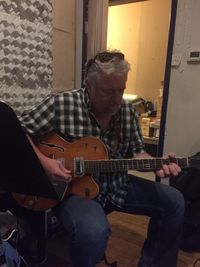 We started on "Talk is Just Talk" and Kevin quickly found the right level of "country" to make the song work.  But before we started to do any takes, I asked Eric if he could extend the solo by duplicating an additional section from elsewhere in the song and adding it to the solo break.  In short order, Eric had done this and we had a solo that seemed more appropriate to the guitar talent we had available!
Kevin initially played his own Telecaster (through a vintage Fender amplifier of Eric's).  But after a few takes Kevin switched over to my circa 1964 Gretsch Tennessean (pictured), from which he coaxed a warm, glossy tone that we immediately recognized as exactly what the song needed.  He tried a few takes, each better than the last, until he had one he was satisfied with.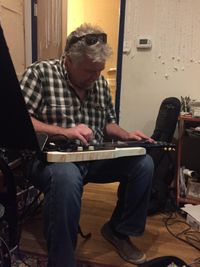 Kevin then suggested lap steel guitar for the track, which he performed in short order, recording several versions that added just the right amount of atmosphere and poignancy to make the song shine.  In the attached rough mix, you can hear one combination of Kevin's guitar and lap steel tracks (we still have to decide in final mixing which combination we like best, although all of them sound great). 
We then turned to "Love in the Middle Ages."  This song has a folk-rock sound and we considered a 12-string electric guitar for it, but ultimately Kevin wound up playing his own, newer Gretsch guitar, this time through a Vox amplifier (the kind used by The Beatles) in an attempt to get something like the Byrds/Beatles sound the song seemed to call for.  Kevin corded several different parts, with the idea that they could be layered together in the final mix.  The result was amazing and I can't wait for everyone to hear it.
Listening to the tracks after Kevin left, we realized that my acoustic guitar part on "Love in the Middle Ages"--recorded very early on, before there were any drums on the song, much less Kevin's guitar parts--didn't really fit in.  So as our last bit of work for this session, I re-recorded my guitar part so that it fit closely with the drums and Kevin's electric part.  All in all, a great session with the last of the amazing group of outside musicians Eric pulled in to help with the CD.