With almost all of my parts recorded, it was time to bring in two more of the impressive players Eric Kilburn had enlisted to help fill in the missing pieces.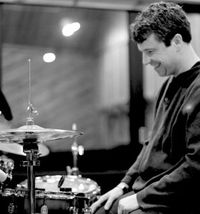 First up was Mike Connors, an amazing drummer with an incredible resume of working with national and international artists.  I had never had the pleasure of working with Mike, and this was the first time I wasn't going to be there for the recording session (I had to work that morning), but I trusted that Eric and Mike would figure out what to do.  And they certainly did! 
Listening to the rough mixes as I drove to the studio I was amazed by how Mike adapted effortlessly to the range of material we had invited him to play on--from the pop-rock "Love in the Middle Ages," to the country "Talk is Just Talk," and the old-school jazz of "Why Do We Ask Why?"  And on the one song I had any questions about (I had neglected to tell Eric about the building dynamics I had in mind for the gospel "Arms Wide Open"), Mike was willing to come back and do again the same day, so we had it right before our next guest musician came to join in.  Thanks, Mike, for your amazing work!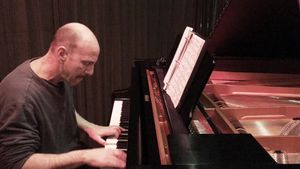 Just as we were wrapping up, keyboardist Joe Barbato arrived.  Joe is another legendary local musician and one who I had the pleasure of having on my last CD, where he played piano ("Springtime") and accordion ("Flower Song of Summer," "Come Back Every Summer").  I knew I wanted to have him back if I could get him and was happy when he turned out to be available to spend an afternoon adding parts to the rough tracks. 
We started off with "Arms Wide Open" (with Mike's new drum part) and, after just a few trial runs, Joe recorded a powerfully stirring part on the B3 organ that truly brought the song to life.  Joe then switched to piano, adding a graceful, radiant part to the folk-pop "Friday Morning," a rough mix of which is attached below.  Joe then played an understated folk piano part on "Water Wheel" and last, but certainly not least, Joe brought out the accordion for a tour-de-force of tasteful old-world jazz on "Why Do We Ask Why?"
All in all, this was an amazing day for me, as I listened to what these two great artists could add to my humble recording