One of my favorite things about my last CD, "Time Won't Let Us Stay," was that my daughters Emma and Grace appeared on a number of tracks, adding their lovely harmonies (and in Emma's case a verse of "Bluegrass Sunday") to the project.  Both have headed off to college since then, so finding time when we can all sing together is a lot harder than it used to be.  But I still wanted to have them be a part of the new CD.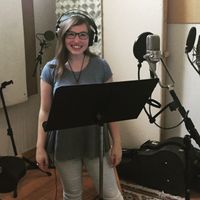 So today I brought Grace down to the studio to record her parts on a few songs before she heads back to college to be a research assistant for a chemistry professor.  We had a great time and recorded harmony parts for four songs, "Water Wheel," "Arms Wide Open," "Friday Morning," and "Down to the Waterfall."  Each of the songs required a slightly different approach, which Grace handled with ease.  Below is a rough mix of the recording of "Arms Wide Open," a song that started as a quiet folk song but has evolved into a powerful gospel-influenced number (thanks for this are due to local musician Florie Namir, who first suggested doing the song this way).  I think it sounds great and can't wait to see how it sounds once Emma adds her voice to the mix!
After Grace left, I turned to some songs I still needed to record vocals on.  It was a good singing day and I was able to get finished vocals on two of the more up tempo numbers, "Love in the Middle Ages" and "Every Wrong Thing," as well as record a new, stronger vocal for "Why Do We Ask Why?" which I had originally done a couple of weeks back.  After a few vocal "repairs" (re-recording individual lines of some songs I'd recorded earlier but wasn't entirely happy with), we did some planning for next week, when drummer Mike Connors and the great jazz pianist/accordion player Joe "Sonny" Barbato will be adding their parts.  All in all a very fun and productive day.  Thanks Grace (and Eric)!