I made it back into the studio on May 24 and the focus this time was on getting my bass parts down, although we did a little guitar and also several vocal tracks.  Eric's bass collection is just as impressive as his guitars and he had a number of candidates already in mind when I arrived.  After trying a few out, we settled on three--a Lakeland Joe Osborne model Jazz bass, a 1966 Fender Precision, and a fretless Fender Precision.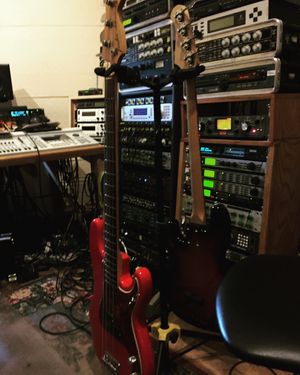 The choice between the first two was all about tone--I would play against the song and it was usually apparent which one was more at home in the song.  My memory is that the 1966 Precision made the cut for the folkier songs while the Lakeland tended to feel right on uptempo things (that's what you'll hear, for example, on "Love in the Middle Ages" and "Every Wrong Thing").  I never play a fretless bass outside the studio, so I approached that one with some trepidation, but it turned out to be just perfect for "Down to the Waterfall" (and may still make an appearance elsewhere).
When my hands started to wear out, I started with some vocals, getting some final or close to final vocals on three songs: "Water Wheel," "Why Do We Ask Why," and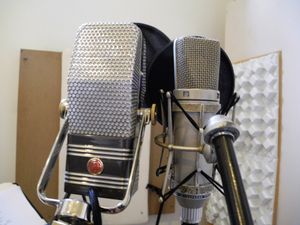 "Down to the Waterfall."  All the vocals were recorded with a Neumann U47 except that for "Why Do We Ask Why," we paired it with a vintage ribbon microphone (both can be seen in the picture), which added a beautiful antique tone to a song that sounds like it might have been written in the 1940s.